These tarts are not only decadent, rich and buttery,
it's knock-your-socks-off good!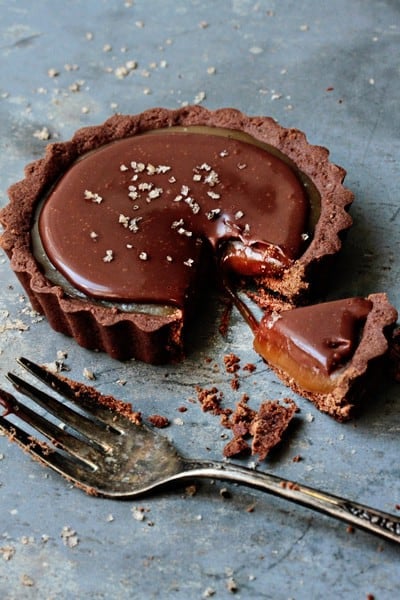 Serves 6
INGREDIENTS:
FOR THE CRUST
1 1⁄2 cups flour
1⁄4 cup plus 1 tablespoon dutch-process unsweetened
cocoa powder
1⁄4 teaspoon. kosher salt
10 tablespoons unsalted butter, cubed and softened
1⁄2 cup plus 2 tablespoons. confectioners' sugar
2 egg yolks, room temperature
1⁄2 teaspoon pure vanilla extract
FOR THE CARAMEL
1 1⁄2 cups sugar
3 tablespoons light corn syrup
1⁄4 teaspoon kosher salt
6 tablespoons water
6 tablespoons unsalted butter
6 tablespoons heavy cream
1 tablespoon sour cream
1 teaspoon pure vanilla extract
FOR THE GANACHE
1⁄2 cup heavy cream
4 oz. Scharffen Berger Bittersweet Chocolate, finely chopped
Vanilla Fleur de Sel for garnish (optional)
DIRECTIONS:
1. Prepare the Crust: In a medium bowl, combine flour, cocoa powder, and salt; set aside. Using a stand mixer fitted with the paddle attachment, or in a large bowl with a electric hand mixer, cream the butter and sugar until light and fluffy; mix in yolks and vanilla. Add in dry ingredients. Divide dough into 6 equal portions. Evenly press each portion into the bottoms and sides of 6 3.5-inch tartlet pan with removeable bottoms. Refrigerate tartlet shells for 30 minutes. Preheat oven to 350 degrees F, prick the tart shells all over with a fork. Bake in preheated oven until cooked through, about 13-15 minutes. Transfer to a rack and let cool.
2. Prepare the Caramel: In a medium saucepan over medium heat, whisk together sugar, corn syrup, salt, and 6 tbsp. water and bring to a boil. Cook, without stirring, until a candy thermometer inserted into the syrup reads 340°. Remove pan from heat and whisk in butter, cream, sour cream and vanilla (the mixture will bubble up) until smooth. Pour caramel into cooled tartlet shells and let cool slightly; refrigerate until firm, about 3-4 hours.
3. Prepare the Ganache: In a medium saucepan over medium heat, bring cream to a boil. Put chocolate into a medium bowl and pour in hot cream; let sit for 1 minute, then stir slowly with a rubber spatula until smooth. Spoon ganache evenly over tartlets and refrigerate until set, 3-4 hours. If desired, sprinkle tart with sea salt and slice. Serve cold.
NOTES:
- My mini tartlet pans were 3.5 inches in diameter
- To make a full size 9 inch tart: Transfer dough to a 9" fluted tart pan with a removable bottom and press dough evenly into bottom and sides of pan. Refrigerate for 30 minutes. Prick the tart shell all over with a fork and bake until cooked through, about 20 minutes. Transfer to a rack and let cool. Fill with caramel chill for 4-5 hours and top with ganache and chill for 4-5 hours. Slice and serve cold.
- If you not have vanilla Fleur de Sel, a simple sea salt will work perfectly.
- Recipe adapted from Saveur